Smarter Thinking
Why the Nordics are the Tech Market to Watch
By Jeanette Carlsson, Founder & Chair of Tech Nordic Advocates
We all know the great success stories of the Nordic tech scene. Whenever I speak about the Nordics, I'm always asked about those magic ingredients that make up a Spotify, a Skype, a Trustpilot, a Just Eat, a Zendesk, a Unity or an iZettle: "What is it about the Nordics?".
It's true that the Nordics are a hotbed for innovation. And though there aren't really any "magic ingredients", there are four factors that combine to build the Nordic mindset.
Early Adopters
Thanks to the Nordics' high GDP per capita, the average person has more money in their pocket to spend on technology than most. The region outperforms both the European Union and Japan in this respect and is not too far behind the United States.
Scandinavians are naturally very curious about the latest technology. From as early as the nineteenth century for instance, the Finnish have sought to leapfrog intermediary technologies and go straight for the most modern technologies to remain competitive. Today, the European Union's Digital Economy and Society Index consistently ranks the Nordics in the top spots for digital connectivity and adoption.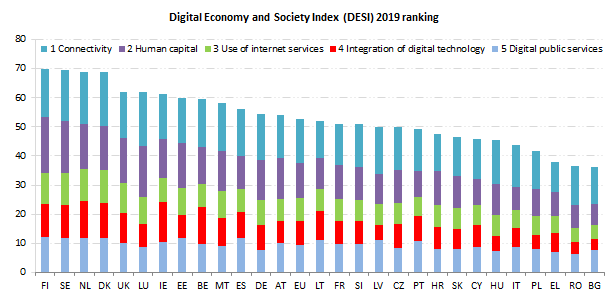 Critical Thinkers
Technology entrepreneurs all over Europe benefit from a high level of education which encourages critical thinking. But nowhere is this truer than in the Nordics. Scandinavians develop an independent mindset from an early age through education: we are taught to question and see problems as opportunities to find a solution.
Thanks to relatively low university tuition fees throughout the Nordics, there is better access to higher education for the masses than in countries with higher fees such as the UK or US.
Government Support
National governments in Scandinavia have adopted numerous innovation policies to support tech companies' growth, from R&D tax credits to grants.
The Danish Government has its own Digital Growth Strategy policy to allocate €134 million to innovation projects until 2025. And in Finland, the Helsinki and Uusimaa Hospital District (HUS) set up an initiative to link up local hospitals in Southern Finland with the university to produce joint research. This has helped to create a stronger dialogue around health tech.
Growth Mindset
The first thought of any entrepreneur setting up a business in the Nordics will be: can it scale? New products are instinctively built to scale globally.
We are naturally more outward looking because of the modest size of our own national markets. Many Scandinavians study and work in English so the thought of relocating abroad or pitching to an overseas investor isn't intimidating.
Investing in the Nordics
The Nordics are growing fast: since 2014, €2.7 billion has been invested into Nordic startups. It's also a maturing market; our 12 Nordic unicorns have a combined value of €60 billion.
Over half of the total value raised by fintech unicorns in Europe can be attributed to Nordic fintechs such as Klarna, Trustly, Revolut and iZettle. And thanks to the recent expansion of AWS into Sweden, we also expect deep tech companies to mature and grow rapidly over the next year.
Though investment from Nordic venture capital firms dominates, international investment is growing: of the €2.7 billion invested into Nordic startups, €1 billion originates from non-Nordic VCs.
Building an Ecosystem
Still, global awareness is low around opportunities in the Nordics. I've worked across the Nordics and the UK throughout my career. In London, I saw that Tech London Advocates had a huge impact on what startups there could achieve. I wanted to build an equivalent ecosystem for the Nordics, so I set up Tech Nordic Advocates. We run events, working groups and startup/investor programmes to bring the technology community together and help startups to scale. We also cover the nearby Baltics, whose standout success stories include TransferWise, Bolt and Skype (Estonia) as well as the up-and-coming Giraffe360 and Nordigen (Latvia).
At London Tech Week, we could see the power of the ecosystem for ourselves – there was far more interest from London-based investors this year than in 2018. The Nordics are increasingly establishing themselves as a force to be reckoned with on the world stage – and the smartest investors will be those who catch this wave early.
TECH NORDIC ADVOCATES is Northern Europe's largest – and only pan-Nordic/Baltic – tech/startup ecosystem of over 750 startup/scaleup founders, entrepreneurs, investors, mentors, accelerators, corporates and policy makers, working together across the 5 Nordic and 3 Baltic countries, to stimulate Nordic/Baltic startup, scaleup and tech sector growth. To find out more, get in touch at connect@technordicadvocates.org.