Thought Leadership
View from the Valley: E-commerce in the post COVID-19 world: Anything, anytime, anywhere!
E-commerce has exploded during the pandemic and consumer behaviour and expectations have moved dramatically, forcing retailers to embrace online channels. However, in comparison to Amazon, most other e-commerce websites offer much more limited choice, and inferior options for shipping and returns. Meanwhile platforms such as Twitter and Tiktok are now starting to enable people to shop on their platforms, and new online shopping experiences are starting to emerge. Intrigued by my experiences, I decided to blog about the new trends in e-commerce and consumer behaviour and how that is represented in fundraising and M&A activity in the space. In particular, how does Europe compare to the US and what's the outlook for the future?
Acceleration of the move from brick-and-mortar to online shopping
Consumers have been increasingly shifting from brick-and-mortar shopping to online for years, but as a result of COVID-19, we saw a huge acceleration in adoption. In 2020 Americans spent $791.7BN on e-commerce, up 32.4% from 2019, according to data published by the U.S. Census Bureau. Although there was not much choice when the world was locked down and the shops were shut, and there has been a bit of a pull back in 2021, the data shows that the long term trend of people shopping online has continued to grow, and that e-commerce now accounts for about 13% of total retail sales in the US.

What online shoppers expect has also changed. We want choice, speed and convenience: anything, anytime, anywhere! We want to know what influencers are saying, to have personalized experiences, virtual try-ons, livestream commerce and critically we want easier payment options.
How does Europe compare to the US?
I've always been under the impression that Europe was leading the way in e-commerce in terms of consumers ordering online. Is that really true?
According to Statistica, 78% of consumers in the US shopped online in 2020 versus 83% in Europe. The global average was 85% with the leading regions that year being South America and Asia. North America had the lowest share with just over three in four consumers buying items on the internet. Due to the fact the UK had a much more rigorous lockdown than the US in 2021, the UK seems to have had a much larger increase in e-commerce adoption.
Benedict Evans, a partner at Andreessen Horowitz and long-time mobile analyst, commented that UK e-commerce penetration was 50% higher than the USA coming out of lockdown. This might explain why TikTok has chosen the UK (and by close geographic association, Ireland probably too) to make its first major move into the online retail space via livestream shopping, blending entertainment and creative content to spur users to purchase this recent holiday season.
I was surprised to learn that Ireland, my home country, is a leader in e-commerce. In 2021, Ireland had the largest e-commerce revenue in Europe with 44%, followed by Belgium (31%), Czechia (30%) and Denmark (29%), Sweden (24%), UK (21%). And globally, Ireland is the 43rd largest market for e-commerce with a revenue of US$4BN 2020. In 2021, 40% of businesses in Ireland had e-commerce sales, according to the Irish Central Statistics Office (CSO) versus 26% of small businesses in the US that have an e-commerce website, according to SurePayroll.
One factor for Ireland's prowess in e-commerce may be its young population which is more likely to shop online. While the median age of the EU population was 44 years in 2020, it was 37.8 in Ireland, 38.5 in the UK and in the US there is a higher age population of 40.6 years.
What are the new trends in e-commerce?
Below I highlight three trends I've observed, and some of the interesting companies leading the way.
Personalized shopping experiences
Consumers are relishing personalized shopping experiences through the adoption of advanced technologies, such as AR/VR and on-site customization for personalized shopping experiences. One of my favorite renditions of this is by Zenni, the online eyewear retail leader, who has a virtual try-on feature that helps customers better see the size, scale, and detail of the glasses and make it easier to make a purchase. I like the way it makes me feel intimate with the pair of glasses and creates a unique shopping experience.
Some other tech innovations include Obsess, a virtual reality shopping platform that overlays a virtual shopping space in high-definition 3D on to a brand's existing website, delivering a creative and immersive shopping experience and Bold Metrics, a scalable AI body modeling technology that uses AI and ML to predict customer body measurements accurately to slash returns, boost conversions, improve sustainability and generate valuable insights across the brand. Also interesting is Blutag which enables retailers to deliver voice applications to their customers without coding, where a consumer can search using their voice, e.g. 'I'm looking for blue running shoes' and Blutag will match the customer to the right product and also provide AI-enabled recommendations.
#TikTokMadeMeBuyIt
Another big change in consumer behaviour is the use of mobile apps and app commerce. In 2021 73% of all e-commerce revenue was via mobile devices. And this market is getting bigger; U.S. m-commerce is expected to experience a massive CAGR of 34.9% between 2020–2026.
To tap into this, Twitter is testing its Shop Module which is dedicated space at the top of a profile where businesses can showcase their products. People can scroll through the carousel of products and tap through on a single product to learn more and purchase — seamlessly in an in-app browser, without having to leave Twitter. TikTok also produced its first live shopping and entertainment event in December where people could buy products directly on the platform, tapping into the rise of "social shopping". It says that one in four of its >1BN users either research a product or make a purchase after watching a TikTok video.
Livestream streaming video
Livestream commerce, which started in China, is revolutionizing the retail industry and consumer shopping habits. This combination of streaming video and e-commerce enables viewers to see extra information on products, interact with the influencer and check out all in the same experience, and has been shown to hold users' attention 10-20x longer than on-demand content.
It's not just startups like TalkShopLive and Popshop Live but even large companies like Adobe are offering live commerce streaming; the latest Magento innovation is CedCommerce that enhances a live-stream video to immersive experience-driven commerce.
What are we seeing in deal activity in e-commerce?
E-commerce sector accounted for nearly half the M&A in the technology space in Q3 21. In total, there were 658 deals and approx. $40BN invested in the e-commerce space. We've picked out some notable deals below:
In June 2021, Lightspeed announced it was buying Ecwid, e-commerce platform enabling storefronts to be synced and managed from one control panel, for $500MN and NuOrder, a B2B ordering platform servicing wholesales, brands and retailers, for $425MN in its ongoing e-commerce consolidation play. Publicly traded with a market cap of about $9.4BN, Lightspeed has been on an acquisition march in the last several months, with the bigger picture being to build a complete, end-to-end, one-stop shop for customers beyond the basics of the point-of-sale software that helped the company make its name.
Alleviating a genuine pain point in e-commerce, it's interesting that in April 2021, Affirm Holdings, Inc. (NASDAQ: AFRM) announced its acquisition of Returnly, a leader in online return experiences and post-purchase payments for $300MN. Returnly serves more than 1,800 merchants, has helped process more than $1BN in returns, and has been used by over 8MN shoppers. It sounds extremely helpful to retailers and brands as Returnly takes the product return risk and settles orders in real time, easing returns and exchanges and increasing customer satisfaction. Affirm's acquisition comes as returns continue to be a source of increased costs and complexities for merchants. U.S. consumers returned an estimated $428BN in merchandise to retailers in 2020! Online returns, which often occur at triple the rate of brick-and-mortar retail, more than doubled in 2020 from 2019.
Other smaller but nonetheless notable deals include:
In July 2021, Swedish payments firm Klarna announced its acquisition of Hero Towers Ltd, e-commerce technology firm that connects online shoppers with retail workers via text messages, videos and online chat rooms for $160MN.
In December 2020, TechTarget, Inc.(Nasdaq: TTGT), the global leader in B2B technology purchase intent data announced its acquisition of BrightTALK Limited, in England. As a leading marketing platform for webinars and virtual events, the BrightTALK acquisition will enable TechTarget to significantly expand its proprietary first-party purchase intent data and its opt-in audience.
What's happening in terms of funding?
In Q3 2021 e-commerce funding was already more than 2x last year's totals as outlined in the graph below from CB Insights.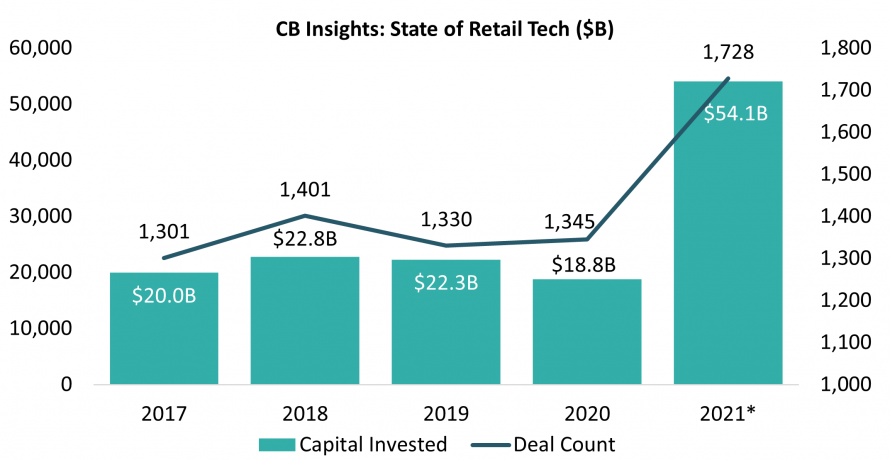 Some of the top companies that raised funding in Q3 2021 also highlight the new consumer trends in e-commerce. Yotpo, a little-known company that powers customer reviews and engagement tools for a range of well-known brands reached unicorn status. Yotpo provides an integrated solution that lets brands collects, curates, manages, and responds to every type of user-generated content from a single platform. In March 2021, it raised $164MN from Bessemer Ventures and Tiger Global with a post-money valuation of $1.4BN.
In May 2021, Contentsquare, a leader in digital experience analytics, raised $500MN Series E investment led by Softbank Vision Fund 2 to fuel rapid global expansion and AI-driven digital experience innovation. The Contentsquare platform analyses customer behaviour through trillions of anonymous web, mobile and app interactions, and transforms this knowledge into intelligent recommendations that increase user conversion and engagement. The tech then offers actionable customer insights which make it a much sought after analytics tool.
In September 2021, Commercetools, a provider of e-commerce APIs that larger retailers can use to build customized payment, check-out, social commerce, marketplace and other services, closed $140MN in funding, a Series C that is said to value the company at $1.9BN. The funding is being led by Accel, with previous investors Insight Partners and REWE Group also participating. Commercetools provides some 300 APIs today around some nine "buckets" of services, and a wide network of integration partners to large retailers like Audi, AT&T, Danone, Tiffany & Co., John Lewis.
And as a salute to the growth in influencer and social e-commerce, in December 2021, Summit Partners announced a $120MN growth investment in Mavrck, an influencer marketing platform for consumer brands. Mavrck was formed in 2014, designed to help brands build that trust with consumers delivered through influencer marketing.
How does Europe compare to the US?
Europe's strength in e-commerce is reflected in deal activity, where almost the same amount of money has been invested as in the US in 2021 (in most sectors the US is usually significantly ahead of Europe).
Approx. $23.71BN was invested in 281 deals in US versus approx. $23.56BN invested across 348 deals in Europe. The graphs below outline this.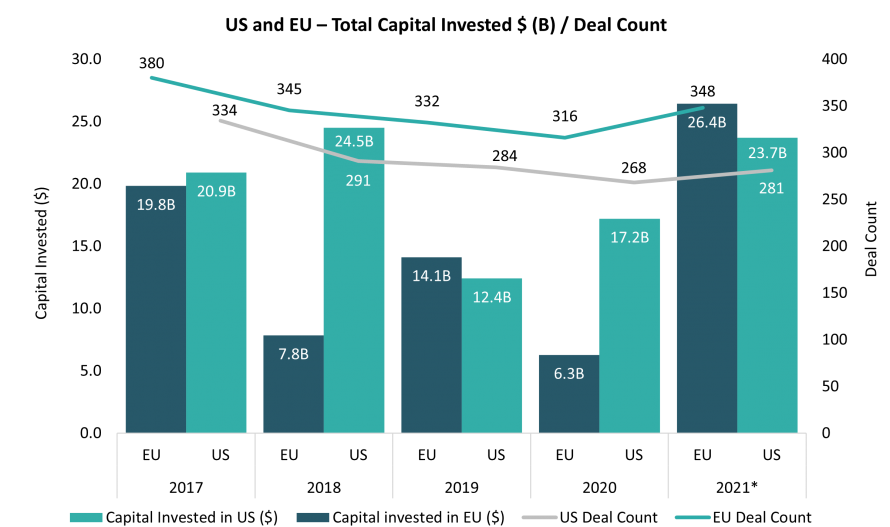 What's interesting is that the spike in e-commerce adaption in Europe in 2021 may help explain the increased capital being invested in Europe in that year and may point to continued growth that may outpace the US over the next few years.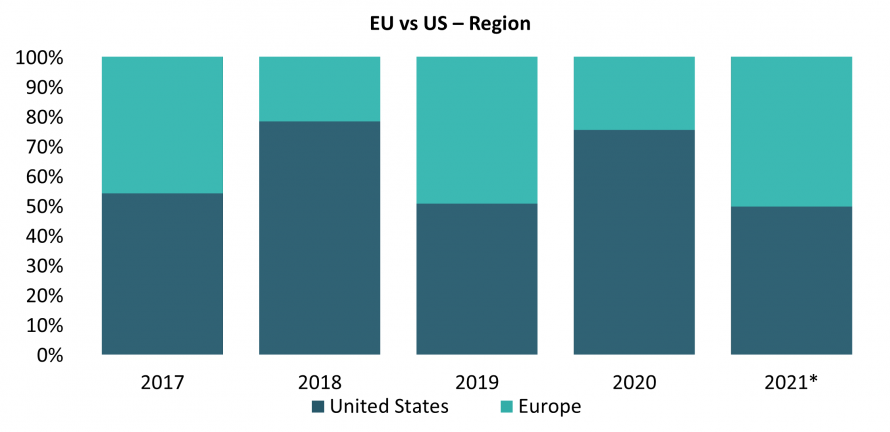 And what's the outlook for the future?
Investment and M&A activity highlight that e-commerce is thriving. The pace of digitization and changing consumer behaviour and expectations continue to accelerate tech innovation, and to give birth to innovative startups.
Consumer surveys by Shopify indicate that the shifts in consumer online behaviour that we saw as a result of Covid-19 will be sticky and are expected to persist. During Q3 2021, e-commerce transactions in the US accounted for 1 in every 6 dollars of retail sales, and the shift to e-commerce from traditional brick-and-mortar retail is expected to continue to grow, from 13% today, to 19.2% in 2024. We expect the market to continue to be vibrant, and for new and exciting innovations to open up new opportunities to create value.