Thought Leadership
The human need to connect during COVID- 19 and its impact on M&A
By Sheana O'Sullivan and Hugo Dias
It was when I realized I had developed stronger relationships with the team in our London office during 2020 that I saw the benefits of increased use of HCM tech by FirstCapital. I certainly wasn't alone with this observation.  
COVID-19 forced companies to adapt new ways to survive the unexpected turbulence of people working from home, and several of these new ways will endure beyond COVID as employers adapt to changing expectations from their staff. The companies that leveraged innovative HCM technologies to manage remote teams were able to navigate more successfully through the storm, helping their people feel more connected and motivated during a time of isolation and doom. Not surprisingly, the technology that facilitated remote workforce management was in heightened demand.  
How did this remote trend impact M&A? What were some of the notable deals and what is the outlook for the future as the world gets back to work?  
In 2020 M&A activity in the HCM space was very strong. The graph below shows the growth in M&A and private equity transactions in the HCM space on an annual basis since 2016. 2020 was obviously a strong year. While the trend is not as strong in 2021, so far this year there has been nearly $4BN in exits from 108 deals up to June 2021.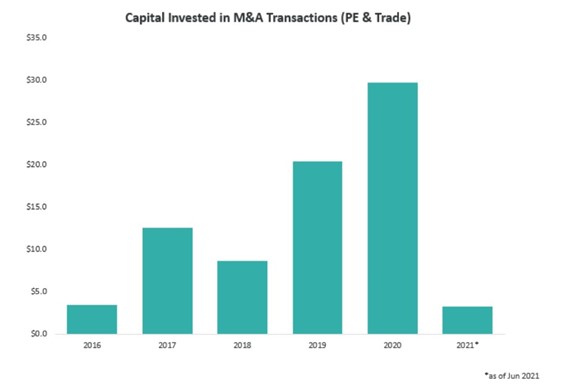 Perhaps an insight into what's yet to come in terms of attractive companies to fuel M&A, venture funding in 2021 has already seen nearly $3.6BN in venture funding for 260 deals this year, according to Crunchbase data. That dollar amount already surpasses all of 2020, which recorded $2.2BN invested in 500 funding deals. One deal in 2021 worth mentioning is New York-based Remote which helps companies hire anywhere in the world by handling payroll, benefits and compliance issues, raising a $150MN Series B at a valuation of more than $1BN. What's interesting is that HCM impact from COVID-19 is largely split. Hot areas like remote employee management, online communications (video conferencing, chat, etc.) and virtual training received increased focus and traded at premium multiples. As companies halted hiring, reduced investment and delayed purchases, areas like hiring and core administration naturally did not experience growth and are typically still struggling to recover even as people start to return to work.  
Gartner outlines three key trends in HCM as being particularly relevant, and these are well represented in the M&A activity.  
Increased use of technology to track employees
One of the most notable acquisitions in 2020 was Ultimate's $11BN merger with Kronos in Q1 2020 creating a powerhouse in HR offering including attendance, scheduling, payroll, and hiring software. Other interesting deals include the acquisition in December 2020 by HealthStream, a leading provider of workforce and provider solutions for the healthcare industry, of Change Healthcare's staff scheduling business, which includes their market-leading ANSOS™ Staff Scheduling ("ANSOS") application and related products. HealthStream was said to have paid approximately $67.5MN in cash for the business. Also in March 2021, Ceridian, a global leader in human capital management and payroll solutions, completed the acquisition of Ascender HCM Pty Limited, a leading HR and payroll solutions provider in the Asia Pacific Japan (APJ) region. The acquisition will bolster Ceridian's workforce management, payroll, talent management, and time and attendance.  
Increased use of technology to connect with employees and support their development and well-being
Some notable deals in 2020 included Vista Equity Partners's acquisition of PluralSight, a provider of cloud-based technology skills training, for $3.98BN. From a European perspective, in Q1 2021, Workday paid $700MN to acquire Peakon, a Danish provider of an employee success platform that converts feedback into actionable insights. The acquisition will give organizations access to a continuous listening platform, including real-time visibility into employee experience, sentiment, and productivity, to help drive engagement and improve organizational performance. Peakon had raised a total of $68MN in funding over 4 rounds. Their latest funding of $35MN was raised in March 2019 from a Series B led by European venture capital firm Atomico, with backing from existing investors, including EQT Ventures, IDInvest Partners, Balderton Capital, and Sunstone. Not only is this a great European success story but it also highlights how the increased use of HCM tech has benefited company valuations. 
In other deals involving European entities, in Feb 2021, UK listed entity Learning Technologies Group plc (LTG), the provider of services and technologies for digital learning and talent management, acquired Bridge, a learning, performance and skills development platform for mid-enterprise organizations. LTG is reported to have paid $50MN in the all-cash acquisition from Instructure Inc. Damstra, an Australian-based provider of integrated workplace management solutions, completed its acquisition of Vault Intelligence. The merged group will be able to accelerate product innovation, including fever detection, facial recognition, remote, mobile and lone workforce solutions 
Signalling the high tailwinds experienced by virtual training businesses, we at FirstCapital were also active in the space; we advised Valamis, a global leader in digital learning technologies and workforce development, on the sale of a majority stake to Nordic-focused private equity house Adelis. (FirstCapital advises Valamis on investment from Adelis | FirstCapital) 
Increased use of technology to conduct workforce planning and to redeploy employees
With HR at the centre of organizational change, the ability to generate insights from the abundance of people data is more critical post-pandemic than ever. We also see this trend represented in M&A activity. 
In July 2021, iSolved, a leading HCM provider for small-to-midsized companies announced the acquisition of predictive people analytics platform TrenData HR. Applying predictive artificial intelligence (AI) models to produce visual insights pertaining to an organization's workforce, the TrenData platform draws on external data sources and aggregates them with information from internal systems. What's quite interesting is that these insights can even be requested from a voice-activated conversational virtual assistant (VA) that makes use of an advanced natural language processing (NLP) engine. In addition, Workday's acquisition of Peakon, outlined above, also provides insight into employee data to help plan for a diverse and inclusive workplace.   
So, what's the outlook for M&A in HCM?
By 2025, Gartner forecasts that 60% of global midmarket and large enterprises will have invested in a cloud-deployed human capital management (HCM) suite for administrative HR and talent management.  
Over the next few months we'll see wider roll out of the vaccines and a loosening up of enterprise budgets. The shift to virtual work is expected to remain a key focus area for enterprises in the future even as companies adapt a hybrid work model between working in the office and remotely. Companies that support the remote management of people will continue to do well. As a result, M&A for HCM SaaS will likely remain active and hot areas like remote workforce management are expected to continue to see attractive valuations.  For me, while M&A activity in this sector shows that companies are seeking competitive advantage from using tech to enable the human connection, it also emphasizes a key universal truth – companies are distinctly human at their core.