Thought Leadership
EU Tech M&A in 2023: What are buyers saying?
By Sheana O'Sullivan
The market data on EU venture capital and private equity transactions recently released by Pitchbook paints a sobering picture for exits in 2022. Overall venture capital exits plummeted by 73% in value to €38.3bn. Digging a little deeper, we see that while €29.6bn in exits were recorded in 1H22, only €8.6bn of exits were transacted in 2H. Exits from private equity fared slightly better, dropping "only" 49% by value, to reach levels not seen since 2013 in 4Q22.
There was a dramatic shift in market sentiment in 2022, away from "growth at all costs" fuelled by plentiful money at high valuations, towards more sustainable growth. Many/most venture-backed companies took action to extend their runway by cutting costs and focusing on getting to profitable growth. However, we expect that in 2023 companies which have delayed coming to market for a transaction in 2022 will now need to look for new funding, or for an exit. It's going to be a tough ride. We expect that it is going to be harder for all but the very best companies to raise new money, so many companies may decide to seek an exit instead.
Curious to know what corporate buyers think about this, and what that means for the outlook for M&A in 2023, we conducted a bit of an informal survey over the last couple of weeks, ringing around a number of contacts in corporate development departments of major software buyers in the Valley. Some of the questions we were trying to answer include: What's actually happening on the ground in tech M&A versus what the media is saying? What can we tell about the outlook in 2023 in tech? And what are the opportunities?
What we heard can be summarized into the following 5 factors: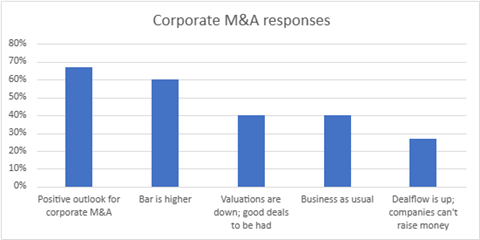 Most people confirmed that while they are open for business (and 40% of people said it was still business as usual) it's clear that the bar for acquisitions is higher, particularly in relation to financial performance. Typical comments include:
"we are still busy looking at companies but there is a shift from growth-oriented activity to more of a cost efficiency focus"
"the environment is forcing us to become more efficient, profitable, and acquisitions are often unprofitable at first"
"we're focusing on the company's forward trajectory, operating margin. Strong fundamentals are more important now"
"in 2021, 80% of our deal flow where we signed NDAs, we did the deal whereas in 2022, only 30-35% resulted in deals. You would expect 50-55% to get done"
We also heard:
"we are seeing unbelievable deal flow right now"
"we are seeing more inbounds from companies that are struggling to raise"
"deal flow is the slowest it's been in a few years but we're optimistic about 2023"
"during the second half in 2023 there will probably be a pick up as companies are waiting to see right now"
Conclusion
While it's encouraging that most buyers are still open for M&A, they are being careful and selective, and there is a preference for companies with strong financial metrics or at least a clear path to profitability.
There's a large backlog of tech start-ups that may find it difficult to raise money in 2023, and will instead seek an exit. The good news for these companies is that there are deep-pocketed acquirers who still have the money and the inclination to buy the right strategic opportunity, at the right price!
Based on conversations with:
SAP
Google
Salesforce
Oracle
Expedia
Booking Holdings
Software AG
Airbnb
Five9
ServiceNow
Kaplan
Wix
EXL Services
ACA Group
Valstone