Smarter Thinking
The Silicon Valley Exodus: Fact or Fiction
On a recent call with a friend in Ireland, she inquired 'Is it true that everyone has left Silicon Valley?' Seemingly, it has been all over the international media that Silicon Valley has lost its allure because so many people and companies are leaving the area. I was curious and decided to separate fact from fiction.
Are people and companies really leaving the Valley and San Francisco? How significant is the exodus? What is the likelihood they'll ever return, or that new people will move into the alleged 'vacant valley'? I live in the city of San Francisco, about 40 mins north of the Valley, and home to many tech workers and tech offices. So, I have a bird's eye view of what is really happening on the ground.
San Francisco's office vacancy rate in 2020 had jumped to nearly 17 percent. Moreover, rents dropped substantially — by 27 percent compared to the same time last year — and Zillow reported more homes for sale in San Francisco than a year ago. This would certainly lead onlookers to believe there has been a significant exodus. Anecdotally, I've heard stories about friends moving to sunnier climes, like Hawaii, San Diego and even Mexico to work remotely, but it seems most people have the intention to move back to SF once the vaccination is being rolled out. I haven't heard of anyone leaving for good. But my contacts may be young with a flexible lifestyle who typically rent apartments and can travel light through life. Remote work has made this type of temporary relocation even more possible.
Regarding an exodus of tech companies and founders, it was certainly newsworthy to see that Elon Musk, one of the world's wealthiest people and the founder of Tesla has moved to Texas. Peter Thiel, PayPal co-founder also announced he's moving the Founders Fund, the multi-billion dollar venture capital fund to Miami. In addition, Alphabet, Amazon, Oracle and Facebook have all either expanded their footprints in Miami or have plans to. I read that Facebook is now working toward a 50% remote workforce over the next 10 years. Meanwhile Jack Dorsey announced that his nearly 9,000 employees across Twitter and Square could work from wherever, forever. And, Salesforce, San Francisco's largest private employer, said most employees can permanently work remotely two or more days. With the increased ability to work remotely, it makes sense that the tech companies are creating plans for a more distributed workforce.
Regarding Musk's move to Texas, it's not surprising that he is drawn to Texas (or Miami) where the income tax is 0%. The move to Texas saves Musk on tax, whereas if he stayed in California he would be required to pay 13.3% in local state taxes.
So people are leaving, but let's not overhype the reality. Bay Area tech giants Salesforce, New Relic, Anaplan and Splunk have seen job listings grow over last few months, and other data seems to highlight that the Bay Area exodus is greatly exaggerated. Numbers published by Crunchbase do not show a slowdown in funding to startups and private companies in the state. To the contrary: 2020 saw more than $68bn invested into private companies, compared to more than $59bn the previous year. That pattern continues into this year: of the $69bn that US-based venture funds invested in startups in the first quarter of 2021, more than $25bn—over a third—landed in Silicon Valley and the Bay Area, according to the latest Pitchbook data. That amount is greater than the next three cities—New York, Boston, and Los Angeles—combined, and more than 30 times the investments in cities like Austin.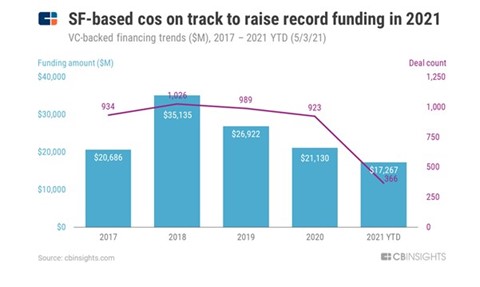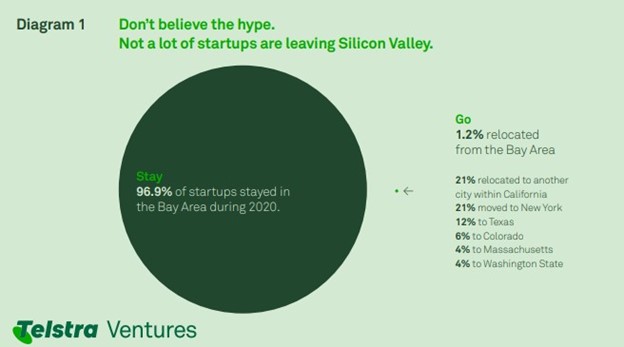 In addition, according to Telstra Ventures, almost 97% of startups stayed in Silicon Valley in 2020.
New people will always want to come to San Francisco for its welcoming embrace; in fact, there's probably nowhere else like it. For many marginalized communities, few cities have familiar faces or safe spaces like San Francisco, and that, say many in tech, keeps them here. The city is a safe haven for diverse communities such as LGBTQ+ and those from diverse ethnic backgrounds. This is one of the reasons I love SF.
The uniqueness and competitive advantage of Silicon Valley is hard to replicate, making it the unparalleled location for perpetuating start-up success and big thinking. It's the epicenter of U.S. tech culture and innovation, the home of the world's leading innovative technology companies accounting for about 14 percent of GDP, and with the aspirational allure of investment from famous venture capitalists on the infamous Sand Hill Road.
While other 'Silicon Valley-esque' pockets have grown and will continue to grow around the country, the data shows that Silicon Valley continues and will continue to play the leading role. Its unrepeatable algorithm of history, resources, and talent continue to make it the premier destination for the world's greatest and brightest.